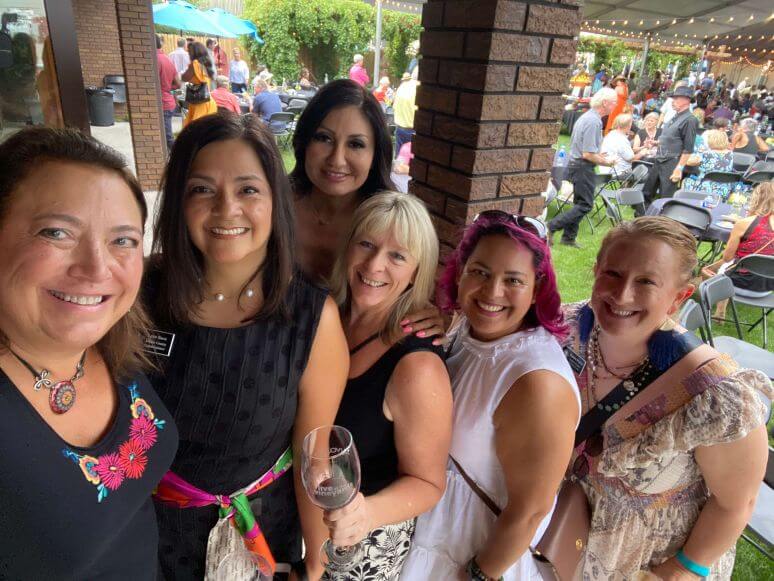 Who's a Gamechanger?
Introduced in 2022, AC-REP plans to recognize four Gamechangers in the following categories: Economic Vitality, Inclusivity, Innovation, and Sustainability at a fun award ceremony on October 26, 2023, at the Delta Hotel in Northglenn starting at 4:00 pm.
Nominations are closed for 2023.
Economic vitality
A Gamechanger in Economic Vitality demonstrates the following criteria:
Economic Transformation: They introduce substantial changes to the economic landscape, driving the region towards new and lucrative industries, diversifying the local economy, and creating jobs.
Industry Leadership: Projects or individuals position the region as a leader or hub in a particular sector, attracting businesses, talent, and investments from across the globe, resulting in a vibrant ecosystem that fosters innovation, collaboration, and entrepreneurship.
Job Creation: Projects or individuals stimulate job growth by generating employment opportunities across various skill levels. It can lead to the creation of both direct jobs within the industry and indirect jobs in supporting sectors.
Increased Investment: Projects or individuals that attract significant investments from local and international sources. This influx of capital can be used to expand infrastructure, support startups, improve education and workforce development, and enhance the overall business environment.
Quality of Life Enhancement: Gamechangers have a positive effect on the region and their community, such as improved infrastructure, enhanced amenities, increased cultural offerings, and a higher overall quality of life for residents.
Finalists for Economic Vitality:
Adams County School Districts
We are thrilled to highlight six exceptional schools that have distinguished themselves for their remarkable efforts in nurturing a pipeline of talent and grooming students for industry readiness. These exceptional schools are Westminster Public School (WPS), Adams 12 Five Star Schools (Adams 12), Mapleton Public Schools, Adams County School District 14, Bennett School District, and Brighton 27J Schools (27). These schools are instrumental in shaping our local economy, equipping students with the skills and knowledge required for emerging industries through their outstanding Career and Technical Education (CTE) programs. Moreover, they actively partner with industry leaders to establish our region as a hub for talent and innovation, thereby attracting businesses and creating new opportunities for our students. Recognizing the diverse needs of Adams County's students, these schools are committed to collaborative learning, working together to identify best practices and opportunities for collaboration in serving all learners. Their unwavering dedication to preparing students for successful careers, engaging with local industries, and fostering a skilled workforce has a direct and positive impact on the economic vitality of their respective districts and the broader community. These districts are truly transformative, embodying the spirit of creating opportunities and working together to support students across the region, while addressing shared needs and opportunities. They are paving the way for brighter futures for our talented young minds and ensuring the prosperity of our entire region.
Comcast Colorado
Comcast is dedicated to connecting people with what matters most to them. Over the past three years, Comcast has invested $4.6 billion in Colorado, including capital expenditures, employee wages and benefits, taxes and fees, and charitable donations. Comcast is expanding its Xfinity 10G network to cover more areas in the Colorado Aerotropolis region, including Aurora, Commerce City, and Denver. This project will provide better business products and services. It will also extend new fiber-rich highways to connect more homes and businesses in the area. The project aims to ensure reliable, secure, and fast connectivity to support businesses of all sizes. This expansion will provide multi-gigabit broadband internet speeds, video, mobile, voice, home management, and business-class products and services to businesses and residents in the Aerotropolis area. Comcast has been at the forefront of closing the digital divide for over a decade. The Internet Essentials program is the largest and most successful broadband adoption initiative in the industry. Since 2011, Comcast has connected more than 600,000 Coloradans, including 112,000 in Adams County, to the Internet. Many of these people have been able to access the internet for the first time thanks to this program.
2023 Winner - Fitzsimons Innovation Community
Fitzsimons Innovation Community is where discoveries meet momentum. To them, this means providing their Community members with the space, opportunity, and inspiration to develop their best ideas and turn them into healthcare products and technologies of the future. They nurture their Community members and their discoveries so that once they gain momentum, they can bring their innovations to the future of health and care without any obstacles.
Highlights from 2021 and 2022 include:
- $55M in capital raised and $87M raised to date in 2023.
- 18+ new innovations introduced into the market.
- 9 new patents received.
- 32 strategic partnerships formed to advance innovation, including research, multinational clinical trials, expansion opportunities, joint ventures, product development, and distribution partners.
It is said that momentum has both magnitude and direction. That's a pretty apt explanation for what happens when Community members begin to research, develop, and mold their discoveries and projects. Fitzsimons Innovation Community is proud to be the venue where momentum takes place, where work gets done, and where discoveries gather steam and change the landscape of health and care.
Pecos Logistics Park
The Pecos Logistics Park spans over 66 acres that are divided into three different phases, totaling 1.15 million square feet. The Park is conveniently located near the Pecos Junction light rail stop, making it easily accessible. Situated in Southern Unincorporated Adams County, the Park is at the junction of three major interstate highways, which puts about 2 million people living within a 15-mile radius of the Park. The Park boasts several amenities, such as a minimum of 28-32 ft. clear heights, trailer parking, ESFR sprinklers, and a minimum of 3000 amps of power per building. Additionally, the Park has shared amenity space with conference/training rooms, a kitchen, showers, bike storage, and outdoor patio space for tenant use, which promotes employee wellness and provides opportunities for networking and collaboration. This is unique for an industrial park. The Park is home to a diverse range of industries. PepsiCo has recently leased a 283,500-square-foot build-to-suit distribution facility and will be the anchor tenant. Construction is currently underway on three speculative buildings, which total approximately 392,000 square feet. Vartega, a recycler of lightweight carbon fiber, and Alliant Power, the nation's biggest distributor of aftermarket diesel engine fuel systems and components, have also opted to lease space at the Park.
Inclusivity 
A Gamechanger in this category acknowledges a dedication to creating an environment where everyone can thrive, regardless of factors such as race, ethnicity, gender, age, location, or circumstances. The recipient is chosen based on the following principles:
Integration of Inclusivity: They seamlessly incorporate inclusive practices into all facets of their operations rather than treating it as a distinct initiative.
Community-Centered Engagement: They actively involve community members most affected by existing systems, using their insights to inform practical solutions for better outcomes.
Collaborative Approach: They prioritize collaboration with community members, involving them in the planning and execution of necessary changes.
Innovative Strategies: They showcase innovative approaches and strategies that advance economic and social advancement for all.
Finalists for Inclusivity include:
Adams 12 Assistive Technology Team
The Assistive Technology Team in Adams 12 Five Star Schools provides a range of services related to the effective selection, acquisition, and use of assistive technology to ensure equitable access to learning for students with disabilities. This includes technology to support students with their academic goals and needs and to ensure that they can access rigorous content despite any challenges or disabilities. They continuously strive to gain access for students to educational and socially inclusive opportunities in the classroom and community.
Food for Hope
Food for Hope is a non-profit organization that aims to provide children in need with nutritious food in order to strengthen and empower the community. Northglenn High School, located in Adams12 Five Star School District, partnered with Food for Hope during the 2019-2020 school year to establish the first in-school food bank in the north metro area. The school has a high-need and diverse student population, with more than 60% of students qualifying for free and reduced lunch. Even with school-provided meals, many students experienced food insecurity at home. By utilizing existing space, staff, and processes, and creating new ones, Food for Hope and Northglenn HS developed a welcoming and stigma-free environment for students and their families to access the food they need. Since then, Food for Hope has opened six additional in-school food banks in the District, delivering over 13,000 lbs. of food to these seven food banks since August 2023. They have also provided 50 culturally appropriate food boxes each month to Afghani families in the community, additional boxes of food to unhoused families, and over 4,000 snacks to local schools monthly. Food for Hope is making a significant difference in Adams County by helping students thrive, regardless of their demographics or circumstances.
2023 Winner - Maiker Housing Partners
Maiker Housing Partners has an unwavering commitment to creating an environment where everyone can thrive, regardless of their background or circumstances. Inclusivity is integrated into all aspects of their operations, making it an essential part of their culture rather than a separate initiative. They prioritize partnerships with community members, involving them in planning and execution to effect necessary changes.
One of MHP's notable features is its collaborative approach, which was evident in its efforts at Claude Court. MHP, in collaboration with the Rocky Mountain Partnership, invited a diverse group of community members, including K-12 schools, community-based organizations, elected officials, and others, to share design ideas for Maiker's newest housing community, Claude Court. This inclusive design session allowed participants to discuss property layout, amenities, and on-site services that would support a thriving community. These community-driven insights are now guiding the development and construction of Claude Court.
MHP focuses on community-centered engagement. Unlike organizations that may superficially engage communities, MHP takes a grassroots approach. It actively involves community members most affected by existing systems, valuing their insights and experiences as instrumental in shaping practical solutions. In this approach, MHP doesn't just seek community input; it genuinely listens and respects the voices of community members, ensuring their perspectives are woven into the fabric of the organization's decision-making processes. This approach ensures that the programs and services offered by Maiker Housing are not imposed from above but are co-created with the community, resulting in solutions that are not only more relevant but also more effective.
Santa's Little Hackers
Santa's Little Hackers is a seasonal toy drive that modifies toys, making simple adaptations to their electronics so that individuals with disabilities can play with them independently. This annual event is organized by MaxMods, a 501(c)3 not-for-profit corporation that is committed to making the world accessible to everyone by identifying adaptations and modifications to make it work for individuals with disabilities. Over the past 10 years, the program has provided over 10,000 adapted toys and accessible switches to children and adults with disabilities in every state in the US and over 20 countries around the world, all from their location in Westminster, CO.
Switch-adapted toys can be quite expensive, ranging from $50 to $100 per toy, and are available from online and catalog retail sources. The founders realized this problem when they saw an unadapted toy in a big-box retailer, which they had previously been looking at for their son. The unadapted toy cost only $15, but they found that the adapted version online was priced at $80. They decided to buy the unadapted toy and modify it themselves, using a few dollars in parts to create a switch-adapted toy for their son at a fraction of the cost. This inspired them to start Santa's Little Hackers, a program that has helped many families since its inception.
Each year, Santa's Little Hackers events are held, bringing together hundreds of volunteers with the same goal of making the world more accessible and fun for everyone.
Innovation
A Gamechanger in Innovation includes several of the following criteria:
Originality and uniqueness: They demonstrate a significant departure from existing solutions or approaches by introducing new ideas, concepts, or methods that have the potential to disrupt and transform the economic landscape.
Impact and scalability: They exhibit the potential for substantial economic impact, both in generating economic growth and creating employment opportunities to be replicated in different contexts or sectors.
Market potential and competitiveness: They show commercial viability and market potential to address a real market need through competitive advantage, creating new marketings, or significantly improving existing ones.
Entrepreneurial spirit and leadership: They are driven by visionary leadership and an entrepreneurial spirit and should reflect qualities such as risk-taking, perseverance, creativity, and a commitment to continuous improvement.
Measurable outcomes and evidence of success: They display tangible outcomes, results, or prototypes that showcase their effectiveness through data, metrics, or qualitative evidence substantiating their achievements.
Finalists for Innovation include:
Forge Nano
Forge Nano, a local company based in Thornton, is a world-renowned leader in atomic layer deposition (ALD) technology. Their goal is to use their proprietary techniques and ALD tools to make various technologies, materials, and products safer, more efficient, and more affordable. With their team of experienced scientists, engineers, and executive leaders, they have become the largest group of surface engineering ALD experts in the world.
Thanks to Forge Nano's extensive research and development, ALD technology is now scalable and practical even for small-scale applications. They provide R&D equipment to universities, national labs, and centers of excellence, making ALD a viable commercial pathway for materials science researchers. Forge Nano has worked with various companies to integrate ALD into their manufacturing processes, installing high-volume equipment capable of coating enormous amounts of materials, powders, or objects.
Forge Nano's ALD coatings have already made a significant impact in various industries such as automotive, battery production, semiconductor manufacturing, and pharmaceuticals. These coatings can improve existing products or add unique characteristics to an object or material. Essentially, any product from raw materials to finished consumer goods can benefit from ALD.
2023 Winner - Pretred
Pretred is a company with a clear purpose and values, aimed at contributing to the circular economy by recycling waste tires and repurposing them into sustainable industrial barriers.
The innovative and state-of-the-art technology used by the Aurora-based company allows for the production of industrial barriers that consist of over 95% recycled materials. Tire waste is a global environmental challenge, with more than one billion tires being sent to landfills or burned every year. Pretred's technology recycles approximately 65,000 tires per mile of barriers, which equates to around 880 barriers. These barriers are a sustainable alternative to concrete ones, reducing 98% of equivalent CO2 emissions, and can be used in construction, roads, parks, and other areas.
The company officially launched in July 2022 and has already undertaken several pilot projects around Colorado. Pretred aims to be a complementary solution for construction companies seeking to meet specific sustainability requirements when obtaining contracts.
Reaction Engines
Reaction Engines is a UK-based company that was established in 1989 with the aim of designing and developing innovative hypersonic propulsion systems, specifically the Synergetic Air-Breathing Rocket Engine (SABRE™).
Recently, Reaction Engines, Inc. has built a new high-temperature airflow test facility in Colorado Air and Space Port, near Watkins, Colorado. The purpose of this facility is to carry out a test program to verify the performance of their pre-cooler heat exchanger technology. The facility will be capable of exposing the pre-cooler test article (HTX) to high-temperature airflow conditions above 1000°C, which are expected during high-speed flights reaching up to Mach 5.
Westminster Public Schools   
Ranum Reimagined is a regional CTE, STEM, and innovation campus that is part of the Westminster Public Schools. This campus is dedicated to providing individuals of all ages with the skills they need for economic and social mobility, regardless of their backgrounds.
The campus is a testament to originality and uniqueness. Rather than opting for conventional solutions, WPS is transforming the historic Ranum High School into a versatile, state-of-the-art campus, introducing new ideas, concepts, or methods that can potentially disrupt and transform the economic landscape.
WPS is also transforming the educational landscape by blurring the lines between K-12, higher education, industry, and government, thereby eliminating inequities. This model will be used as a blueprint for other regions.
The impact and scalability of this campus is remarkable. With programs tailored to meet the specific demands of regional employers, this initiative fuels economic growth and creates employment opportunities. Its industry-driven approach guarantees commercial viability and market potential, addressing genuine market needs while substantially improving existing educational pathways. Additionally, the campus will be open to adult learners for upskilling and reskilling opportunities, making it a community asset for the region.
WPS has exhibited an unwavering entrepreneurial spirit and leadership throughout this endeavor, displaying qualities such as risk-taking, perseverance, creativity, and an unyielding commitment to continuous improvement. With tangible outcomes within reach, Ranum Reimagined is poised to redefine talent development, narrow equity gaps, and foster a culture of lifelong learning within the community.
Sustainability
A Gamechanger in Sustainability demonstrates the following criteria:
Environmental Impact: They consider factors such as reduced greenhouse gas emissions, energy efficiency, waste management, water conservation, use of renewable resources, and preservation of local ecosystems.
Innovation and Technology: They promote innovative projects that leverage cutting-edge technology to improve efficiency, reduce environmental impact, and enhance the overall sustainability of the community.
Collaboration and Partnerships: They recognize projects that leverage partnerships to achieve shared sustainability goals and maximize positive impacts.
Education and Awareness: They raise awareness and educate the community about sustainability issues and practices.
Measurable Impact: Projects produce tangible and measurable outcomes to create sustainable solutions. They consider metrics such as energy or resource savings, waste reduction, carbon footprint reduction, increased employment opportunities, or improved quality of life.
Scalability and Replicability: They demonstrate the potential for the project to be scaled up or replicated in other communities or regions. The project offers transferable lessons, best practices, or innovative models that can inspire similar sustainability initiatives.
Long-term Planning and Vision: Projects align with long-term sustainability goals for the community or region with a clear vision for the future, well-defined objectives, strategies, and plans for ongoing monitoring, evaluation, and adaptation.
Leadership and Commitment: They demonstrate strong leadership and commitment to go above and beyond to achieve sustainability objectives.
The finalists for Sustainability are:
Adams 12 Five Star Schools
Adams 12 Five Star Schools has been actively pursuing sustainability programs for over a decade. As part of their efforts, they initiated a $2 million Energy Performance Contract project aimed at enhancing water and energy efficiency in nine schools while also fitting the STEM Lab building with a rooftop solar array. This initiative made STEM Lab the district's first-ever Net Zero Electric school. Additionally, the district has made progress in increasing the waste diversion rate from 16% in 2017 to almost 24% in 2023.
IECRM
IECRM, the Independent Electrical Contractors Rocky Mountain Association, is the largest IEC electrical training program in the country. Since 1981, it has been Colorado's leading association for electrical and renewable energy contractors. Every year, the organization trains over 2,500 electrical apprentices and licensed electricians while serving over 250 electrical contractors and industry partners through membership.
IECRM believes in preparing the workforce to meet the future's sustainability goals and encourages its members to embrace renewable energy technology. They are leading the way in sustainability by providing an electric vehicle charging station for their employees, teachers, and students to utilize for their electric vehicles.
Furthermore, IECRM has been involved in the City of Northglenn's Energy Plan and Electric Vehicle Plan. The training program is located in a renovated 23,000 SF building in Northglenn. Donations to IECRM's training program are eligible for a 25% state income tax credit because they are in an enterprise zone.
Solid Power
Solid Power is a company that is dedicated to developing advanced solid-state battery technology to cater to the ever-growing Electric Vehicle (EV) and other markets. The company's core technology is its unique electrolyte material that can provide extended driving range, longer battery life, improved safety, and lower costs when compared to traditional lithium-ion batteries.
What sets Solid Power apart from its competitors is its business model. Instead of manufacturing batteries, it plans to sell its electrolyte material to cell manufacturers and license its cell designs and manufacturing processes.
Solid Power intends to become a leading producer and distributor of sulfide-based solid electrolyte material for powering EVs and other applications. The company operates from a 75,000-square-foot manufacturing facility in Thornton and employs over 100 people.
2023 Winner - Vartega
Vartega is a company that aims to make carbon fiber more accessible to everyone. They do this by solving some of the world's toughest advanced materials recycling challenges, which allows them to create circular supply chains, decarbonize transportation, and enable a sustainable future.
Through its patented recycling process, Vartega has developed a low-cost grade of carbon fiber with mechanical properties that are similar to virgin material. This grade of recycled fibers can be used in a wide range of applications, such as nonwoven fabrics, thermoplastic pellets, and 3D printing filaments.
Earlier this year, Vartega expanded its production capacity by 10x, moving to a new, world-class manufacturing facility and headquarters in Adams County. This facility allows the team to operate safely and efficiently and deliver a reliable source of high-quality recycled carbon fiber.
The new facility will meet the growing demand for recycled carbon fiber and Vartega's EasyFeed carbon fiber bundles, which are used as a low-cost alternative to virgin material for automotive and other industrial applications. By using the Vartega process, thousands of tons of waste will be diverted yearly from landfills, which will have a significant economic impact by reducing waste disposal fees. The most significant economic benefit of using low-cost recycled carbon fiber is reduced fuel consumption due to vehicle lightweighting.
With a planned capacity of 2,000 metric tons per year, Vartega will continue to serve its growing customer base in North America and address new opportunities in Europe and Asia.